First thing's first... I am really excited to announce that the winner of my Woozie giveaway is a lady whose blog I CAN NOT get enough of.
We're gonna have matching Woozies, girlfriendddd!! <3
Proof. Just in case you needed some. ;)
And now I will continue on with my Friday posting by writing some letters.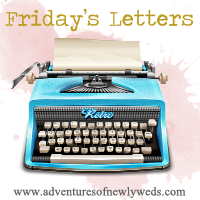 Dear Boyfriend, thank you for grilling out for me last night because I was craving your ribs. They were delicious as always. Also, thank you for those sexy, beefy arms of yours. Meow. Love, me.
Dear Pick Your Plum, I've now started ordering the most random things from you, like these cute straws. I legitimately have no use for them but I couldn't sway myself from the $3 price tag. I don't hate you but, damn, you make it so hard to stay away. Mama needs to go make more monies to afford you. GroopDealz, Very Jane, and Jewlery Nut Auctions this goes for you three, too.
Dear Mama, I'm really glad you are cool enough to appreciate my giving you a case of Cupcake Chardonnay for your birthday. I was slightly nervous you were going to think it was a cop out, but really I just wanted to shower you in delicious vino.
Dear High Buns, please don't go out of style soon. You're too easy and cute. I think I love you.
Short and sweet today. So happy it's Friday! Hope everyone has a fabulous weekend.