Notice anything new around here? No? Alright then, moving on.
Yesterday, throughout the course of my work day, I began to feel a little tickle in my throat.
A very unwelcome tickle.
I woke up this morning feeling pretty shitty and the tickle is a full on sore throat at this point.
Yep, a short two days before the day it's socially acceptable to stuff your face with anything and everything in sight and I'm popping vitamin C like it's my job.
This would shock most - unless you are me.
You see, my Thanksgiving track record is less than impressive.
After last year's fiasco, I'm convinced I have some sort of Thanksgiving curse on me.
Last year my sweet mother and myself got into a nice little disagreement which caused my eating KFC alone at my townhouse for Thanksgiving.
Last year, around Thanksgiving time, was also the time I was going through that fun engagement mishap.
Screw the butter knife, the tension that surrounded last year's Thanksgiving could have been cut with a plastic spoon.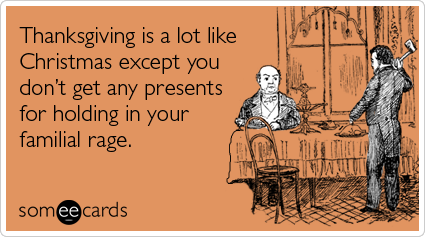 Then two years ago I managed to catch the most violent stomach flu I've ever known.
This beast of an illness hit me at 2am on Thanksgiving morning.
Yes, I had a flu that wouldn't even allow me to keep down an ice chip on the biggest eating day of the year.
Who the hell do you have to piss off in the universe to manage that?
Three years ago I decided I was a vegetarian.
Really Whitney? You pick THE HOLIDAY SEASON to go through this short-lived phase?
Yeahhhh, that was some real bad judgement.
Still regretting that to this day. I mean, I was healthy and I DIDN'T eat half of my favorite foods.
I hang my head in shame reminiscing this year.
I plan on kicking this sore throat's ass by chugging hot tea like it's natty light and this is my freshman year of college so that my Thanksgiving this year will break this curse I'm under.
If I don't get to enjoy turkey, stuffing, potatoes, green bean casserole and enough pie to feed a small country this year, I will be quitting this holiday once and for all.
Also, I need to be able to take down a bloody mary or 10.
My dad is the dad who can't handle the pressure of cooking the turkey and ends up having some type of tryptophan meltdown somewhere shortly after the Purina Dog Show ends.
I need some vodka to cushion the inevitable meltdown.
Anyways, here's to vitamin C and my dad's famous "Over the lips, through the gums, lookout stomach here it comes. Yay, God." prayer.
Go away, Thanksgiving curse.